Smart Video Badges
A NEW TOOL FOR YOUR MARKETING ARSENAL !
Using the power of our visually stunning full-motion Video Badges, Salespoint bridges the gap between your brand and consumer. Taking one-on-one marketing to a whole new level. Whether executing a unique brand program or simply deploying a visual message as an extended tactic of your existing programs, our Video Badges will enhance your efforts where it matters most… at the point of sale.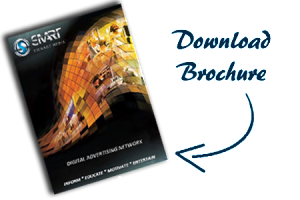 WHAT IS SALES POINT ?
Where hardware and content are deployed in a stunning visual experience. It is a promotional platform to help you drive business and build your brand. We are an effective blend of marketing concepts and technology that can drive sales from 7%-64% in a target-rich retail environment. We are also the only network built on people… literally.
LET'S TALK STRATEGY – YOU TALK, WE LISTEN
Video Badges are little powerhouses and are client proven in numerous strategic deployments at retail:
Worn by cashiers and customer service personnel to promote:
Loyalty programs
Vendor programs
URL promotions
Text-based promotions
QR Codes and Snaptag promotions
Instant Rebates via text and mobile device
Cross Platform Campaigns
Fund Raisers
Increasing on-premise Facebook Likes & Twitter Follows
Increase upsell success rate
New product promotion
Promote daily and weekly specials or upcoming events.
Where there are people, Video Badges stand out, getting attention and engaging consumers like nothing else available in todays market.

SINCE ASSOCIATES WEAR THESE THINGS… HOW DO THEY WORK ?
Our Video Badges are simple to operate:
Power up
Content loops for 8 – 10 hours
Charges via docking station or mini-USB
Use the channel changer for multiple channels of content
That's it!
SO THE HARDWARE IS VERY COOL, BUT WE CARE ABOUT THE MESSAGE AND ATTRACTING CUSTOMERS… WHAT ABOUT CONTENT ?
Salespoint is driven to help you create sales and engagement with your customers. We provide the assistance you need with a unique and powerful tactic based on your market strategy.
Our team can produce your content or simply consult or collaborate with you or your agency to ensure your brand message is optimized.
HARDWARE FEATURES :
Ultra High Resolution, Full motion 30fps Dynamic Organic OLED screen
Bright 180 degree viewing
Over 8-10 hours of play on a single charge via docking station or mini-USB
Plays Vertical or Horizontal Content
Strong magnetic lapel connector and lanyard included.
Multiple channels for day-parting or scheduled rotation of content
Loops content automatically
Automatically updates content daily (optional)