Smart TV Software
Digital Signage Television Billboard TV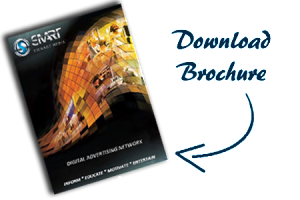 Smart TV Software is a TV that comes with a Digital Signage function.
Run messages on the TV screen in the form of a billboard without additional hardware. Advertisements, information and broadcast content can be arranged on the same screen to attract attention and deliver specific messaging to your customer base.
Cost Effective
No need to buy a media player. Create your own signage content by using your PC and Smart TV Software. Transfer that content by using a USB flash drive or wireless.
Customized to Your Needs
Digital Signage content can be customized for your business. Smart TV Software allows you to create your own Digital Signage content and make revisions on the fly.
Fast and Easy
Edit content quickly and easily. Select one of the pre-made templates. Add your images and text to it. It's that simple.
Variety
Choose from a vast range of templates designs. Smart TV Software gives you the power to choose and change according to your needs.
Create Your Content in 4 Easy Steps
Smart TV Software is available in a wide variety of sizes, 32", 39" 42", 47" and 55". These versatile televisions include stunning customizable templates with zoned content, or users can display their own full screen images or video. Many of the Smart TV Software predesigned templates even include a live TV inset. The Smart TV Software is the perfect combination of an LCD flat panel and digital signage.
This solution is perfect for those that are either hesitant of jumping right into full-fledged networked Digital Signage solutions, or those that really only need a simple plug & play option.