Smart Digital Signage Software
SDS-CMS14TM Smart Digital Signage Software
Our SDS-CMS14TM Smart Digital Signage Software is a complete solution that allows anyone to easily build and manage a centrally controlled network of dynamic displays, using the latest decoding and transmission technology. SDS-CMS14TM is currently installed with many of our clients who are enjoying our managed applications including:
Shopping Malls
Hotels
Retail Advertising
Entertainment
Restaurant
Corporate Communications
Digital Menu Boards
Chain-stores
Airports
Banks
Convention Centre
In-Vehicle (Bus & Taxi)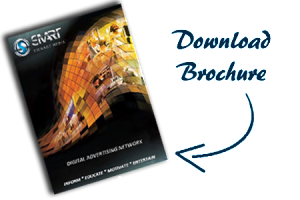 Our Screens and Displays controlled by SDS-CMS14TM can connect and be controlled from a central location through any IP-based network (include LAN, WAN, wired or wireless, 3G, multicast satellite, or even a mix of any of these).
All Screens are managed through a web browser using our SDS-CMS14TM management software.
Our SDS-CMS14TM networks can support hundreds or thousands of players, driving displays of any kind, e.g. Plasma/LCDs TV, TV/CRT, Projectors, LED screens, etc.
Our SDS-CMS14TM management software realizes the centralized management of multimedia playback perfectly, featuring remote content update, viewing network log, high definition and secure system login.
With powerful R&D ability, we specialize in providing software and hardware for digital signage solutions, which is specifically designed to manage your multimedia display content. It is widely used in advertising, signage and information broadcasting to the public, such as department stores, shopping malls, retail stores, hotels, bars, restaurants, club houses, hospitals, government buildings, institutions, transportations and information centers.
At Smart Digital Signage, our priority is to provide our clients with the highest quality products, the most innovative solutions and the best customer service.
If you have questions about our SDS-CMS14TM Software or would like to set up a time for a demo, please feel free to Contact Us.