Commercial Displays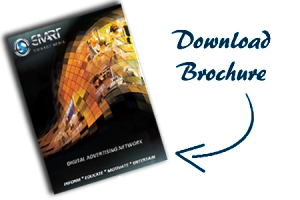 Smart Digital Signage offers Commercial Displays solutions tailored to the conditions of your ever changing market. Whether for corporate communications, retail, QSR/food service, or other vertical markets, we will identify your specific needs and guide you through the development of a turnkey signage solution targeted towards attracting customers and making immediate returns on your investment.
Smart Digital Signage has all the elements to simplify digital signage for high impact installations such as way finding, dynamic advertising, and information boards. Our strong business relationships with major distribution partners nationwide give us the logistical capability as well as the service and program support to supply a wide variety of digital solutions. Take control of your Digital Signage network, build your brand image, and enhance the quality of the customer experience.
From the store front window to the point of sale, Smart digital Signage commercial displays solutions can enhance the customer experience while improving ROI. Smart digital Signage has the expertise to develop a public display network that replaces traditional static signage to give you content management control and flexibility. High Definition content such as dynamic POP (Point of Purchase) advertising, branding videos and interactive graphic interfaces will instantly become the center of attention to achieve the direct impact you want.
Digital Sales Tool
As an effective sales tool, Smart digital Signage commercial display solutions can add various levels of technology sophistication to your retail space earning more consumer awareness and mind share. Make immediate returns on your investment with display solutions from Smart digital Signage.
Dramatically increase your signage compliance rates at the store level over traditional print signage.
Build customer loyalty with consistent branding programs across all locations.
Improve conversion rates with interactive product information and expanded assortment offerings.
Augment accessory attachment rates with weekly endemic advertising.
Increase promotional revenue with in-store signage space.
Customized Digital Solutions
With a full range of commercial LED, LCD and plasma displays, touch screen kiosk displays, mounts, and digital media players, our vertical market managers and application engineers will customize an effective and scalable digital signage solution tailored to your specific needs. Take control of your signage network, build your brand image, and enhance the quality of the customer experience.
To contact your Smart digital Signage Sales Representative,
call: 1.855.448.1200 or e-mail: info@smartdigitalsignage.ca