Automotive Digital Signage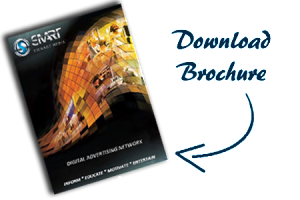 Digital Signage offers dealerships a sales and communication tool for cross-promotion in all areas of the dealership. Digital Signage in the showroom and service area enhances the customer experience, increases conversion rates and provides dynamic, compelling visual reasons for shoppers to consider a make.
Automotive Summary
Build dealership brand
Drive purchasing behavior
Reduce printing costs

Leverage corporate marketing
Increase customer satisfaction
Ensure consistent messaging
Automotive Digital Signage Benefits
Interactive "discover stations" allow customers to explore the features of the vehicles.
Eye-catching motion video displays enhance the showroom and draw attention to latest models and promotions.
Impactful displays in accessory and service areas increase attach rate and inventory turnover.
Informative waiting area screens reduce customer waiting time and educate customers on preventative maintenance.
Displays can deliver employee training before or after business hours.
Touch-screen kiosks from the Digital Dealership System increases customer engagement with your products and brand. Kiosks can be placed throughout the auto dealership and at special events to reach your customers like never before!
In the auto dealer showroom, Digital Signage Displays can be used to create an overall richer buying experience for customers. Digital Signage Displays are designed to improve the experience so the customer feels comfortable and at ease in the environment. Today, more and more auto dealerships are looking at Digital Signage Displays as an effective medium to communicate their brand and create the right ambiance in their showrooms. Sitting in the waiting room for repairs or new car closing can be utilized to educate the customers about the new models, dealer promotions, service shop promotions etc…
Smart Digital Signage has the solution for your dealership. If you have questions about our products and services and how we can complement your business needs or would like to set up a time to demo, please feel free to contact us for a Live Demo.